Denis Darzacq
by Klaus Speidel
Denis Darzacq
par Klaus Speidel
Welding Time and Space, Capturing the Decisive Moment.
Some works are interesting because they straddle the line between different kinds of practice. This is the case with Denis Darzacq's recent creations. While earlier works like La Chute, Hyper and Act triggered immediate and nearly universal fascination by putting on the line the human body and its (dis)abilities, his abstract collages Absences demand an active viewer. In order to feel and understand them, we have to conquer them first. In a world full of easy pictures, where attention spans are getting shorter and shorter, they demand a concentrated and patient gaze, not just a glance. Made to be savored and decoded slowly, they are not instantly striking and don't immediately tell us how to read them. At first sight – especially when we only see a reproduction on our smartphone screen – it is hard to tell if they are paintings, sculptures, photographs or something else. They are hard to classify and full of contradictions. But it is precisely their ambiguity that makes them interesting.
Each Absence is short lived and yet accumulates many instants. Each seems abstract and yet each is assembled of photographic images. Torn or cut out from a photograph, the pieces that Darzacq welds together, each refers to a moment in the past of his practice as a photographer: an image of an urban landscape in Taiwan from 2014 can meet an IKEA chair from an office in 1992 or a metal grid from a school in Chicago, photographed in 2016. While looking abstract, these works are charged with the lived reality of an internationally acclaimed photographer. Their poetic – and sometimes political – potential only fully appears when we read the legend. Where Darzacq's past creations embraced the decisive moment, none of the instants packed into the recent works seems to be more decisive than any other.
Each of the pieces in his assemblages is a photographic trace in it's own right. Each says – in Roland Barthes terms: "This has been." But not every segment shows a recognizable thing in the world. In an act of auto-appropriation, Darzacq iconoclastically destroys his own photographs to create something new. What was initially produced as an image in its own right becomes the raw material for bending and welding time and space together. Destruction becomes the basis for creation. The constructed simplicity of a series like Chute has given way to a visual complexity which is hard to understand. What connects Absence to Darzacq's earlier works is the inherent instability of the constellations. Most of his fragile photo-sculptures only exist for a few moments – enough time for the artist to snap a picture – and then fall apart. The decisive moment now happens in the intimacy of the studio.
Klaus Speidel, 2021
Fusioner le temps et l'espace, capturer le moment décisif.
Certaines œuvres suscitent l'intérêt de par leur propension à naviguer entre différents types de pratiques. C'est le cas des créations récentes de Denis Darzacq. Alors que ses précédents travaux La Chute, Hyper et Act déclenchaient une fascination immédiate et presque universelle en exposant le corps humain et ses capacités/handicaps au danger, ses collages abstraits Absences requièrent une observation active du public. Il faut d'abord les conquérir pour les ressentir et les comprendre. Dans un monde où il est facile de prendre des photos et où notre capacité de concentration s'amenuise toujours plus, ils exigent un regard concentré et patient, et non un simple coup d'œil. Conçus pour être savourés et décodés lentement, ils ne nous sautent pas instantanément aux yeux ni ne nous révèlent d'emblée comment les lire. Difficile de dire s'il s'agit de peintures, de sculptures, de photos ou d'autres choses à première vue, à plus forte raison lorsqu'on n'en voit qu'une reproduction sur l'écran de son smartphone. Ces créations ne sont pas évidentes à classer et regorgent de contradictions, mais c'est justement cette ambiguïté qui les rend intéressantes.
Les Absences durent très peu de temps, mais n'en accumulent pas moins divers instants. Bien que d'apparence abstraite, chacune d'elles consiste en un assemblage d'images photographiques. Qu'ils soient déchirés ou découpés dans une photo, les morceaux que l'artiste soudent les uns aux autres renvoient individuellement à un moment passé de sa carrière de photographe. Un cliché de paysage urbain à Taïwan de 2014 peut côtoyer celui d'une chaise IKEA d'un bureau datant de 1992 ou la grille métallique d'une école à Chicago immortalisée en 2016. Si ces œuvres paraissent fictives, elles n'en portent pas moins la réalité vécue d'un photographe de renommée internationale. Leur potentiel poétique, et parfois politique, ne se révèle pleinement qu'à la lecture de la légende. Là où les créations antérieures de Denis Darzacq ont adopté le moment décisif, aucun des instants capturés dans ses œuvres récentes ne semble plus décisif que les autres.
Chaque pièce de ses assemblages constitue une trace photographique à part entière. Chacune d'elle affirme, selon les propres termes de Roland Barthes, que « ça a été. » Toutefois, ces segments ne montrent pas tous un élément reconnaissable du monde. Dans un geste d'auto-appropriation, le photographe détruit ses propres clichés de façon iconoclaste pour créer du neuf. L'image à part entière initialement produite devient la matière première qui permet de relier et souder le temps et l'espace. La création repose désormais sur la destruction. La simplicité construite d'une série comme Chute a ouvert la voie à une complexité visuelle difficile à comprendre. Les Absences se connectent aux œuvres précédentes de Denis Darzacq grâce à l'instabilité inhérente des constellations. La plupart de ces photo-sculptures fragiles n'existent que pendant quelques instants. Le temps qu'il faut à l'artiste pour prendre une photo, avant leur effondrement. Le moment décisif se produit désormais dans l'intimité du studio.
Klaus Speidel, 2021
Traduit de l'anglais par ADT International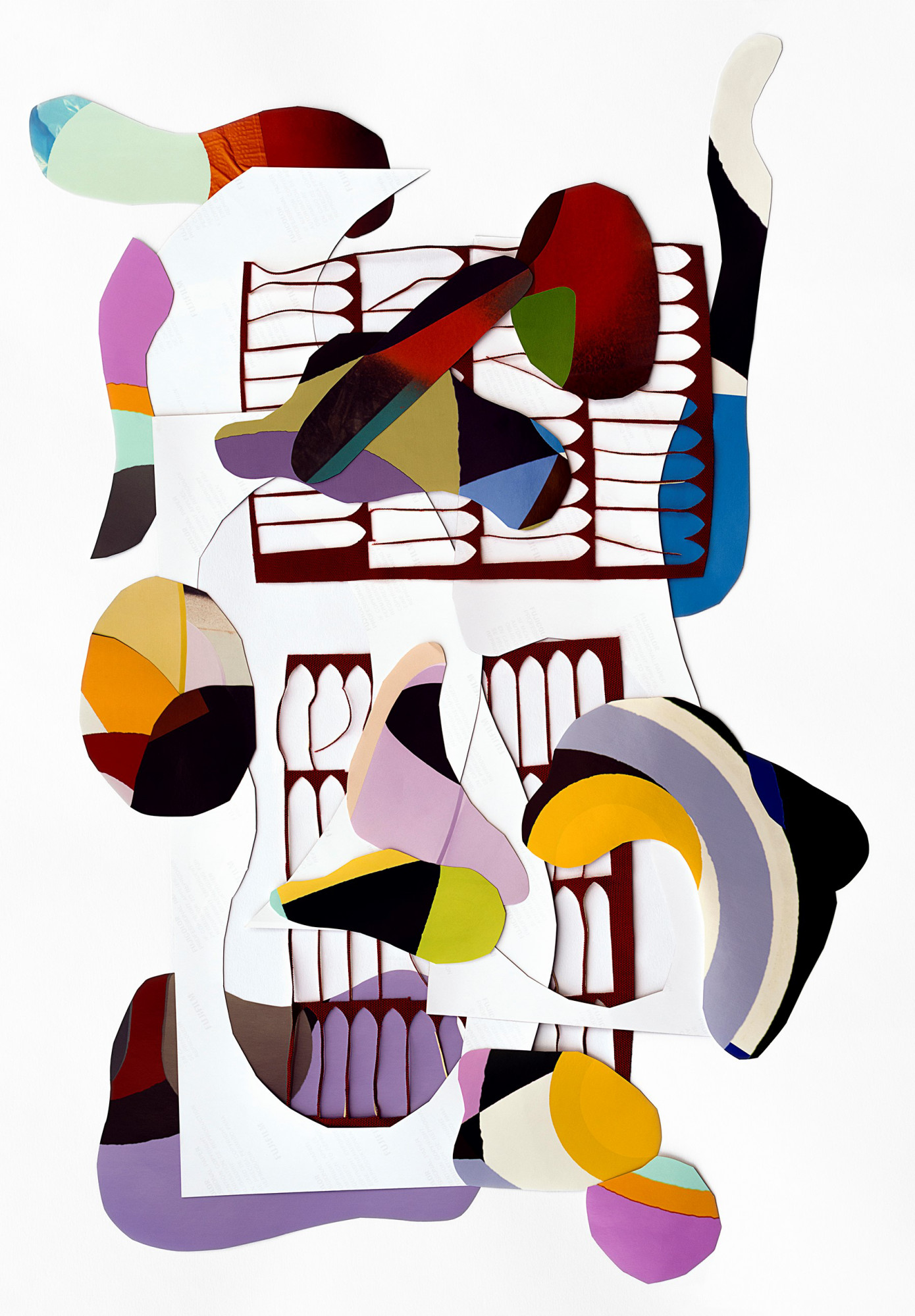 Born in 1961, Denis Darzacq lives and works in Paris.
Graduated from the National School of Decorative Arts in 1986 (ENSAD).
He began his career of photography following the French rock scene and then became a stills photographer on numerous feature films (Satyajit Ray, Jacques Rivette, Chantal Ackerman, etc.).
From 1989, he regularly collaborates with the newspaper Libération and more generally with the national press. In 1997, He became a member of agency VU.
Denis Darzacq has developed personal work since the mid-1990's.
He has become convinced that planned images paradoxically serve to reflect society with greater acuity. Since 2003 he has turned to staging which involves the principle of disruption. The pose or condition of the people staged contrasts with the established order without spilling over into the spectacular. Nude men and women walk through suburban settings; others seem suspended in urban set­tings or among supermarket shelves. Handicapped persons repossess public space. In the recent series Recomposition I, Darzacq used digital editing for the first time to relentlessly pursue this edgy logic.
Denis Darzacq approaches the body like a sculpture; a sculp­ture of social commentary, for the body cannot be disassociated from the context in which it interacts. The body is the tool used to critique the problems and barriers inflicted on different groups of people, in particular disaffected youth from the outskirts of life, and, like in Act, populations on the fringe of society. Denis Darzacq puts his finger on the social contradictions and restrictions. He also beckons the viewer, through the breach created by movement stripped of meaning, to affirm ever-more complex identity than what meets the eye, and to assume a form of freedom where freedom seems to have vanished.
For the last ten years, his photographic works have taken a new direction, more abstract . They translate the same sense of the observation of signs of the contemporary world, while developing a reflection on the photographic medium, trying to free it from its duty to inform. No more narration or too direct a relationship to reality, only shapes, colors, space and composition make sense.
Né en 1961 Denis Darzacq vit et travaille à Paris. Diplômé de l'Ecole Nationale des Arts Décoratifs en 1986, section vidéo, il débute la photographie en suivant la scène rock française et devient également photographe de plateau sur de nombreux longs métrages (Satyajit Ray, Jacques Rivette, Chantal Ackerman, etc.).
A partir de 1989, il collabore régulièrement avec le quotidien Libération et plus globalement avec la presse nationale. Il devient membre de l'agence VU en 1997.
Depuis le milieu des années 1990, Denis Darzacq développe un travail personnel. Il a acquis la conviction qu'une image construite pouvait paradoxalement servir son analyse de la société avec plus d'efficacité. Aussi recourt-il, depuis 2003, à des mises en scène qui reposent toutes sur le principe de la disruption. Par leur état ou leur pose, les corps mis en scène bouleversent l'ordre établi, mais sans jamais faire basculer l'image dans le spectaculaire. Des hommes et des femmes marchent nus dans des zones pavillonnaires (Nus, 2003), d'autres semblent figés en apesanteur dans l'espace urbain (La Chute, 2006), ou entre des rayons de supermarchés (Hyper,_ 2007-2011) ; des personnes en situation de handicap reprennent avec force possession de l'espace public, (Act, 2009-2011). Le montagenumérique que l'artiste n'avait jusqu'alors jamais utilisé, lui a permis, dans la série Recomposition I, 2009, de pousser plus à fond cette logique perturbatrice.
L'artiste envisage le corps comme une sculpture. Mais une sculpture sociale car le corps ne peut être extrait du contexte avec lequel il interagit. L'artiste en fait l'outil d'une critique des difficultés et des stigmatisations auxquelles se heurtent certains groupes, tout particulièrement les jeunes des quartiers défavorisés ou des zones reléguées, plus globalement comme dans Act, les populations en marge. Denis Darzacq pointe les contraintes et les contradictions sociales. Mais il invite aussi, par la rupture de gestes dépourvus de sens, à affirmer une identité toujours plus complexe que celle qui nous est assigné et à reconquérir une forme de liberté là où elle semble avoir disparu.
Depuis une dizaine d'année ses travaux photographiques ont pris une nouvelle direction, plus abstraite elles traduisent un même sens de l'observation des signes du monde contemporain, tout en développant une réflexion sur le médium photographique, essayant de libérer celui-ci de son devoir d'informer. Plus de narration ni de rapport trop direct à la réalité, seuls les formes, les couleurs, l'espace et la composition font sens.
Klaus Spiedel is an image and art theorist, academic philosopher, art critic and curator. In 2015, he received the AICA France Prize for Art Criticism. He studied philosophy and art history in Munich (LMU) and Paris (École normale supérieure, Paris X Nanterre, Sorbonne). He publishes academic papers on art, narrative, depiction, style and drawing in German, English and French.
He also writes for the Frankfurter Allgemeine Zeitung, Der Standard, Spike Art Quarterly, artpress, Art Newspaper, Parnass, and in catalogues, for instance for Centre Pompidou, Schirn Kunsthalle, mumok, Belvedere, FRAC Franche-Comté, mudam Luxemburg, Kunsthalle Wien. He curated exhibitions in Germany, Austria and France, was a guest on the Arte TV show Philosophie with the topic « Image » and a keynote speaker at different international events.
After teaching at the Sorbonne, Université Paris Diderot, as well as the Universities of Konstanz and Vienna and at numerous fine arts and design academies, he was the head of the FWF Lise Meitner Project Towards an experimental narratology of the image between 2015 and 2018 at Vienna University. He teaches art history at the Universities of Vienna, image theory at the Ecole Estienne in Paris and Paris College of Art, as well as art and curation at the University for Applied Arts in Vienna and consults institutions regarding their communications.
Kaus Spiedel est un théoricien de l'image et de l'art, philosophe universitaire, critique d'art et commissaire d'exposition allemand. En 2015, il fût le lauréat du Prix AICA France de la critique d'art. Il a fait des études de philosophie et d'histoire de l'art à Munich (LMU) et Paris (École normale supérieure, Paris X Nanterre, Sorbonne). Il publie des articles de recherche sur l'art, la narration, l'image, le style, et le dessin en allemand, anglais et français. Il écrit également pour le Frankfurter Allgemeine Zeitung, Der Standard, Spike Art Quarterly, artpress, Art Newspaper, Parnass, et dans des catalogues, par exemple pour le Centre Pompidou, Schirn Kunsthalle, mumok, Belvedere, FRAC Franche-Comté, mudam Luxembourg, Kunsthalle Wien.
Comme commissaire, il a créé des expositions en Autriche et en France, était l'invité de l'émission « Philosophie » sur Arte avec le sujet « Image » et donne régulièrement des conférences lors d'événements internationaux. Après avoir enseigné à Paris IV Sorbonne, Université Paris Diderot, et les universités Konstanz et Vienne et dans de nombreuses académies d'art et de design, il a dirigé le projet FWF Lise Meitner « Towards an experimental narratology of the image » entre 2015 et 2018. Il enseigne en histoire de l'art à l'université de Vienne, la théorie de, et l'écriture sur l'art contemporain à Ecole Estienne à Paris, la Summer Academy for Fine Arts de Salzburg et le Paris College of Art, ainsi que la théorie de l'art et du commissariat à l'Université des arts appliqués de Vienne et conseille des institutions sur leur communication.
Carole Douillard's work meticulously tracks the body as it oscillates between the conventions that frame it and its being. Sleeping, watching, holding, loitering, walking; Douillard is interested in what the body knows and how it takes up the space of a given public space.
Carole Douillard, Natasha Marie Llorens