Rebecca Digne
by Asli Seven
Rebecca Digne
par Asli Seven
Before I met Rebecca Digne in person, I was pulled in by her works due to an unassuming, discreet quality I cherished in them. Her films and installations seemed to operate through subtle gestures and atmospheric shifts while remaining grounded in our experience of reality outside of the artistic frame. It seemed like she was finding and staging the extraordinary hidden in the details of a situation or a setting inscribed in continuity with lived experience itself. Repetitive movements and gestures ordinarily unfolding over set periods of time, like the matter-of-fact presence of an elephant slowly wandering through the gardens of the historic palazzo Villa Medici in "Metodo dei loci - chapitre I" (2019), as if this was a daily occurrence in the life of any elephant. This matter-of-fact framing of the event carries a subtle revelation of something not about the elephant, but about the surrounding architecture, its scales and around what it operates within the landscape. It is not an elephant freely roaming in an urban context that is shocking, but the palazzo's construction itself, the measures and the landscaping of its gardens which become strange and alienating, standing out as the silent source of tension and suspense. This displacement is made possible by Rebecca Digne's careful weaving of multiple threads between documentary and fiction: still frames and long shots make the camera and the artifice of montage almost disappear while the artifice of landscape architecture stands out against the bodily presence and slow movements of the pachyderm, this oversized living symbol of memory.
This initial encounter with one short film activated two fundamental questions that have informed my thinking for a while: what is the status of process set against a finished work of art? Where and what is the difference between a document and a work of art?
Rebecca Digne begins to talk about her process as situated in the "field", outside of the studio. Akin to a dramatist and anthropologist combined, she reads, surveys and observes landscapes, relationships and situations like texts out of which she then selects elements, tensions and movements to stage and enact in collective actions, films and exhibition settings. She is interested in "the primary and the primitive": the fundamental, bare and unapologetically utopian human experience of making: creating something together, relating to one another and to the matter of the Earth that surrounds us: soil, wood, rock, architecture, language.
In 2017, in response to the landscape of the Vassiviere island, she facilitates and films the construction of a raft out of dead wood by two craftsmen, without the use of electricity. Set in the woods of the island surrounding the International Centre for Art and Landscape, "L'Aventure", the resulting film, documents this slow process of making tuned down to the scale of human hands, , and pierces through the exhibition setting as an eruption of process over the assumed autonomy of form. The resulting exhibition "A La hauteur de la terre" (2018) is imbued with an imaginary of movements between subterranean and surface realms that underline the precariousness of all architecture in time. A thick rope stretches and meanders through the space, an index of movement in height and distance, coils around two columns and shoots outside from the narrowest window, across the field surrounding the building, reaches the actual raft on the lake, whose "making of" is offered for contemplation in "L'Aventure". With this gesture, an uncertainty hits the horizon of anticipation: is the raft pulling the building into a movement across the lake, or is it the exhibition that stabilizes the raft floating on the water? This loosening of signs from the stable moorings of their referents is Rebecca Digne's invitation for emerging fictional potentials. She says: "A film tells a story, but an exhibition gives the possibilities for a narrative to emerge".
The rope's anchoring of the exhibition and the raft is echoed in the film as the two craftsmen extend a smaller cord on the ground to calculate the measurements of the raft to be built, standing on two edges of the line that connects them. The gesture of stretching, rolling out, pulling in and extending a rope to connect different points in time and space, to measure and scale, to relate things that seem distant or distinct in nature, to move bodies and thoughts along knots and threads, to project and recollect, operates both as a framing device and a narrative method across Rebecca Digne's oeuvre.
An older performance-film, "Tracer le vide" (2017) stands out as a focal point gathering multiple threads that run through her works and materially connects with "A la hauteur de la terre" through the use of the exact same 600 meter rope. A collective performance carried out across the sea shores of Naples and Marseille and filmed in 8 and 16 mm features a group of friends. They take turns holding, stretching and coiling the cord around rocks, connecting their bodies to elements of the landscape as they move, grasp and release each other and the landscape by manipulating the rope. This is a pacing of the physical field between where Rebecca was born (Marseille) and where she grew up (Naples), moving between the sea and the land, between bodies and the emotional territories of language and meaning. This is a pacing of the playing field to create something together, to create and become a temporary community. The rope is a recording device, it documents and enables every move, it turns and coils, it stands for multiple moving relations, the rope is a montage, the rope stands for film, for the territories of thought.
I keep thinking about the raising of a tent, the tightening of ropes held between human hands, the woven texture of a tent wall or a sail against the wind, the anchoring into the ground of a circus tent as a narrative space where people assemble and disperse, a space that is open to experiences and that stores experience. Rebecca tells me of her youth spent working at a circus. She says: "Life brings me questions and work allows me to enact and experience them".
Avant de rencontrer personnellement Rebecca Digne, j'ai été attirée par ses œuvres en raison de leur caractère à la fois discret et sans prétention, une qualité que j'appréciais dans son travail. Ses films et ses installations semblent procéder à de subtils déplacements et infimes changements d'atmosphère, tout en restant ancrés dans l'expérience que nous avons de la réalité en dehors du cadre artistique. C'est comme si elle parvenait à découvrir et à mettre en scène l'extraordinaire qui se cache dans les détails d'une situation ou d'un environnement inscrits dans la continuité de l'expérience vécue : des mouvements et des gestes répétitifs se déroulant habituellement dans un laps de temps déterminé, comme en atteste, dans la vidéo Metodo dei loci (chapitre 1) (2019), la présence impassible d'un éléphant déambulant lentement dans les jardins de la Villa Médicis à Rome, comme si cela faisait partie du quotidien de n'importe quel éléphant. La mise en scène strictement factuelle de cet événement est porteuse de révélations subtiles non pas tant sur l'éléphant lui-même que sur l'espace architectural dans lequel il évolue, son échelle et la manière dont cet espace s'intègre dans le paysage. Ce n'est pas le fait de voir un éléphant déambuler en toute liberté dans un environnement urbain qui est choquant, mais l'architecture même de la Villa Médicis, le paysage constitué par ses jardins aux proportions monumentales, qui devient étrange, s'imposant comme une source silencieuse de tension et d'angoisse. Ce déplacement est rendu possible par la façon minutieuse dont Rebecca Digne tisse de multiples fils entre le documentaire et la fiction : ses images fixes et ses longs plans-séquences font presque oublier la présence de la caméra et l'artifice du montage, tandis que la présence physique et la lenteur des mouvements effectués par le pachyderme – symbole vivant et surdimensionné de la mémoire –, fait ressortir l'artifice du paysage.
Cette rencontre initiale avec une courte vidéo de Rebecca Digne a fait surgir en moi deux interrogations fondamentales qui guident mes réflexions depuis un certain temps : quelle place faut-il accorder au processus par rapport à l'œuvre achevée ? Où se situe la différence entre un simple document et une œuvre d'art, et en quoi consiste-t-elle exactement ?
En 2017, en écho au paysage de l'île de Vassivière, elle a filmé deux charpentiers compagnons du devoir, auxquels elle a demandé de construire un radeau avec du bois mort trouvé sur place. Le film qui en résulte, Une Aventure (2018), tourné dans les bois entourant le Centre international d'art et du paysage de l'île de Vassivière, documente ce lent processus de fabrication à l'échelle de la main humaine et s'introduit dans l'espace d'exposition, comme pour mieux faire surgir la manière dont le processus prend le pas sur l'autonomie hypothétique de la forme. Le dispositif qui l'accompagne – À la hauteur de la terre (2018) – est imprégné des mouvements qui relient de manière imaginaire le monde souterrain et la surface visible, soulignant la fragilité temporelle de toute architecture. Une longue corde épaisse se déploie en serpentant à travers l'espace, comme un indicateur du périmètre et de la hauteur parcourus par sa trajectoire. La corde s'enroule autour de deux colonnes avant de dessiner une fuite vers l'extérieur par la fenêtre la plus étroite et de traverser l'étendue du champ qui entoure le bâtiment pour rejoindre le radeau réel qui flotte sur le lac, dont le making of nous est donné à voir dans Une Aventure. Avec ce geste surgit un doute qui heurte nos attentes en les remettant en perspective : est-ce le radeau qui entraîne le bâtiment dans son mouvement perpétuel sur le lac ou est-ce l'espace d'exposition qui stabilise le radeau flottant sur l'eau ? Ce relachement des signes indiciels des amarres stables de leurs référents est l'invitation faite par Rebecca Digne à l'émergence des potentiels de fiction. Elle me dit qu': "un film raconte une histoire mais une exposition c'est de donner les possibilités d'un récit."
La corde qui permet d'arrimer à la fois l'exposition et le radeau trouve un écho dans le film, lorsque les deux charpentiers tendent une corde plus petite sur le sol pour prendre les mesures de l'embarcation à construire, se tenant chacun d'un côté de la ligne qui les relie. Le geste qui consiste à étaler, à dérouler, à étirer et à étendre une corde pour relier différents points dans le temps et l'espace – pour mesurer et dimensionner ; pour relier des choses qui paraissent distantes (ou distinctes) par nature ; pour déplacer les corps et les pensées le long d'un méandre de nœuds et de fils ; pour projeter et se souvenir – fait office, dans l'œuvre de Rebecca Digne, à la fois de dispositif et de méthode narrative.
Une de ses créations antérieures, une performance filmée intitulée Tracer le vide (2017), apparaît comme un point de convergence vers lequel se rassemblent les multiples fils qui traversent son œuvre. Cette création est reliée matériellement à l'exposition A la hauteur de la terre par l'utilisation de la même corde de 600 mètres de long. Il s'agit d'une performance collective réalisée entre Naples et Marseille entre les rives de la Méditerrannée, et filmée en Super 8 et dans un format 16 mm, présentant un groupe d'amis. Ils se relaient pour tenir la corde, la dérouler et l'entourer autour des rochers, connectant leur corps aux éléments qui composent cet environnement tandis qu'ils se déplacent, s'agrippant les uns aux autres et saisissant le paysage avec la corde avant de relâcher leur étreinte et d'abandonner leur emprise sur les lieux. Il s'agit d'arpenter, à travers ce film, le territoire qui se déploie physiquement entre le lieu où Rebecca est née (Marseille) et celui où elle a grandi (Naples), en opérant un déplacement entre la mer et la terre, entre les corps et les territoires émotionnels du langage et du sens. Il s'agit d'arpenter un terrain de jeu pour créer quelque chose ensemble, pour construire quelque chose en tant que communauté éphémère. La corde est un dispositif d'enregistrement qui documente et permet chaque mouvement ; elle s'enroule et se déroule ; elle est représentative de relations perpétuellement mouvantes ; elle est un montage de différents éléments ; elle tient lieu de la bobine du film, des territoires de la pensée.
Cette image ne cesse de m'évoquer le montage d'une tente, la tension des cordes tenues entre des mains humaines, la texture tissée d'une toile de tente ou d'une voile se déployant contre le vent, l'arrimage dans le sol d'un chapiteau de cirque envisagé comme un espace narratif dans lequel des gens se rassemblent et se répartissent, un espace à la fois ouvert aux expériences et qui permet d'engranger des expériences. Rebecca me raconte qu'elle a passé une partie de sa jeunesse à travailler dans un cirque. Elle me dit: " la vie m'apporte des questions que le travail me permet de vivre".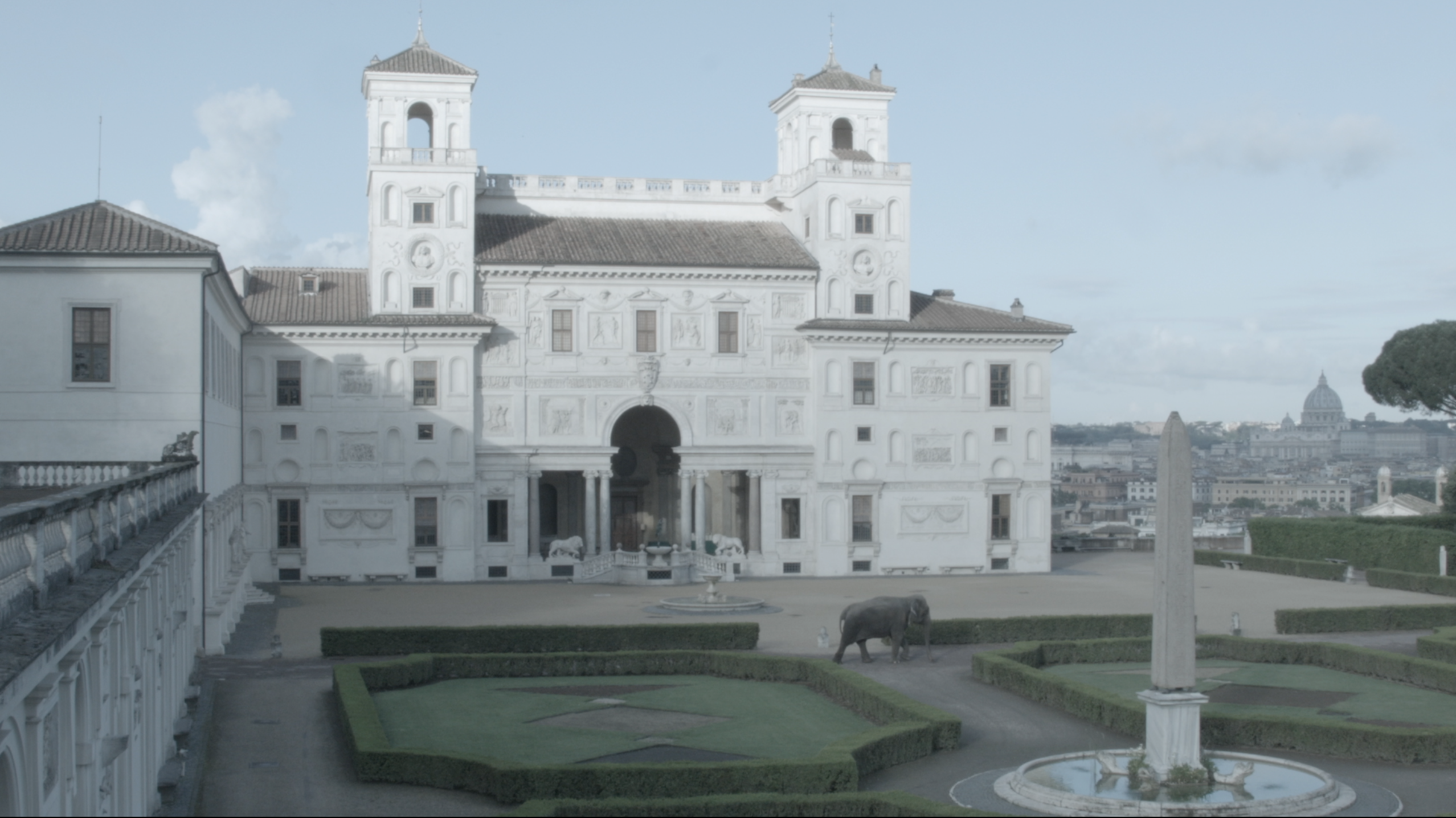 Rebecca Digne was born in 1982 in Marseille, currently lives and works in Paris.
She graduated from the École Nationale Supérieure des Beaux-Arts de Paris with jury honors in 2009. During two years (2010-2011) she is a resident at the Rijksakademie Van Beelden Kusten in Amsterdam then follow the residency programm of the Palais de Tokyo: Le Pavillon, in Paris (2013-2014) and Villa Medici in Rome, Italy (2018-2019).
Among her recent solo exhibitions : La Stanze at the art center 3bisF, Aix-en-Provence (2021), La Septième Chambre at 33 – Mécènes du Sud, Marseille (2021), La Main heureuse, programme SUITE du CNAP et ADAGP à la Halle (2020), À la hauteur de la terre , Centre International d'Art et du Paysage, Île de Vassivière (2018), Tracer le vide , Galerie Escougnou-Cetraro, Paris (2017).
Her work as been presented in several institutions and galeries as Palais de Tokyo in Paris, Musée d'Art Moderne de la Ville de Paris (ARC), Musée Zadkine in Paris, Musée d'Art Moderne André Marlaux in le Havre, Musée des Abattoirs in Toulouse, Villa Medici in Rome, Palazzo Strozzi in Florence, Les Tanneries, Centre d'art d'Amilly, Labanque in Béthune , Fondation EDF in Paris, Fondation Memmo, Nomas Foundation in Rome, Maison Descartes the French Institut in Amsterdam, Collection Lambert in Avignon.
Her work is part of private and public collections such as Musée National d'art Moderne – Centre Georges Pompidou, Fonds Municipal d'Art Contemporain de la Ville de Paris (FMAC), CNAP, Fonds Régional d'art contemporain PACA (FRAC PACA), Fondation Memmo and Seven Gravity Collection.
Rebecca Digne's pieces are enigmatic evocations that capture the projection and the exhibition space as a « place of resistance to the time. » The image, both subject and medium, is operated as a territory where intermingle with issues related to the matter of waiting, time, identity, gesture or ritual.
Rebecca Digne est née en 1982 à Marseille. Elle vit et travaille à Paris.
Diplômée de l'École Nationale Supérieure des Beaux-Arts de Paris avec les félicitations du jury puis résidente pendant deux ans à la Rijksakademie Van Beelden Kunsten à Amsterdam en 2010-2011. Elle suit ensuite le programme du Pavillon, laboratoire de création au Palais de Tokyo en 2013-2014 à Paris. Elle est pensionnaire à la Villa Médicis à Rome en 2018-2019.
Parmi ses expositions personnelles récentes:
« La Stanze » au lieu d'art contemporain 3bisF, Aix-en-Provence (2021)
« La Septième Chambre » au 33 – Mécènes du Sud, Marseille (2021)
« La Main heureuse » à la Halle, Pont-en-Royans (2020)
« À la hauteur de la terre », Centre International d'Art et du Paysage, Île de Vassivière (2018)
« Tracer le vide », Galerie Escougnou-Cetraro, Paris (2017)
Son travail a été exposé dans de nombreux musées et centres d'art tels que: Palais de Tokyo à Paris, Musée d'Art Moderne de la Ville de Paris, Musée Zadkine à Paris, Musée d'Art Moderne André Marlaux au Havre, Musée des Abattoirs à Toulouse, Villa Medicis à Rome, Palazzo Strozzi à Florence, Centre d'art d'Amilly, Labanque à Béthune , La Fondation EDF à Paris, Fondation Memmo à Rome, Fondation Nomas à Rome, Maison Descartes, Institut Français des Pays-Bas, Fondation Yvon Lambert.
Asli Seven is an independent researcher, curator and writer based between Istanbul and Paris. Her research and curatorial projects focus on infrastructure, landscape, pedagogy and performativity of documents, with an emphasis on fieldwork, ficto-criticism and co-creation.
In 2020-21 she was the recipient of CNAP and Cité des Arts grant and residency for curators in Paris. Since 2014 she has collaborated as curator and writer with Arter, SALT, IKSV, Protocinema, The Pill, Bilsart and others in Istanbul; and CNAC Magasin, Grenoble, thankyouforcoming, Nice and Galerie La Box, Bourges, in France. Since 2018 she has lead workshops and taught as guest lecturer at Sotheby's Institute of Art, London, MOCO Esba Montpellier, Arter Research Program, Istanbul and ENSA Bourges. She holds a doctoral level degree on Artistic Research delivered by ENSA Bourges and EESI Poitiers-Angouleme (2019) and a Research MA in Political Science from Université Paris 1 – Sorbonne. She is a member of AICA, C-E-A (French Association for Curators) and a collaborator with Independent Curators International (ICI).
Asli Seven est chercheuse, curatrice et écrivaine vivant et travaillant entre Paris et Istanbul. Ses recherches se portent sur l'infrastructure, le paysage, la pédagogie et la performativité des documents avec un intérêt pour les pratiques de terrain, de fiction critique et processus de co-création.
En 2020-21 elle est lauréate de la résidence et bourse CNAP et la Cité des Arts à Paris pour les commissaires d'exposition. Depuis 2014 elle a collaboré en tant qu'écrivaine et curatrice avec Arter, SALT, IKSV, Protocinema, The Pill, et Bilsart à Istanbul, et CNAC Magasin, Grenoble ; thankyouforcoming, Nice et La Box Bourges en France. Elle a enseigné dans diverses structures depuis 2018, comme Sotheby's Institute of Art, Londres, MO.CO Esba Montpellier, Arter Programme de Recherche, Istanbul et ENSA Bourges. Elle a un Master recherche en Sciences politiques de l'Université Paris 1 La Sorbonne (2007) et d'un Diplôme Supérieur de Recherche en Arts de l'ENSA Bourges et l'EESI Poitiers-Angouleme (2019). Elle est membre de l'AICA, de C-E-A (Association Française des Commissaires d'Exposition) et collaboratrice auprès de Independent Curators International (ICI).
Kameli is not only interested in deconstructing the existing image archive, she also insists on the presence of a counter-archive, one less public but nevertheless crucial. She renders visible women who themselves produced representations, such as: Louisette Ighilahriz, and an FLN militant who recruited women to sew Algerian flags for the Independence Day celebration; Louiza Ammi Sid, who worked throughout the Black Decade as a photojournalist; Marie-José Mondzain, a French philosopher of the image born in Algiers whose motherwas from a well-established Jewish Algerian family and whose father was a Polish artist, a communist who escaped the Holocaust; and the first Algerian female filmmaker andnovelist, Assia Djebar.
Katia Kameli, Natasha Marie Llorens