Fabienne Audeoud
by Maurin Dietrich
Fabienne Audeoud
par Maurin Dietrich
I was deeply impressed by Fabienne Audeoud artistic practice. First by encountering her works Parfums de pauvres at Palais de Tokyo and later on in the week at her studio where she constructed a comprehensive miniature retrospective of all the exhibtions she did and always wanted to do.
The work Parfums de pauvres consists of a huge collection of cheap perfume bottles with names like Insanity on it - copies of haute-couture brand originals that where found in shops around Paris relating to consumer culture of less privileged, working class people. In an interview, Fabienne Audeod said her intent was more about the question if the creative teams or individuals who thought Dispute, Solitude, British Emotion or Insanity were notions some people would like to buy and wear. How and why did they come to consider that these were good or good enough ideas? Who did they intend to address and seduce with such brutal utterances? Were they actually aware that Touz meant orgy in French, or of what Nob-luck could imply in English? Did they have a good laugh with Coinci-dance and Untrue Lies? "People I was buying these bottles with seemed to make up their mind by how they smell, but I never actually asked them about their choices."Besides the exhibited works at Palais de Toyko I was impressed by the miniature retrospective that she construced herself. It was unsettling to see how the status of terms like "work", "practice" – "production" and "reception" were questioned in the gesture of deciding to both look back at ones own practice as well as maybe decide that this would be the last work.
During this stay I finally made at Le Crédac, the contemporary art center of Ivry. Founded in 1987 it is now located in a beautiful steel-and-glass structure and supposedly one of the first manifestations of functionalism in France.
The current exhibtion with the title J'aime le rose pâle et les femmes ingrates is a group exhibtion departing from Sarah Tritz that also brought together works by artists such as Fabienne Audeoud, Alexandra Bircken, Liz Craft, Nicole Eisenman, Dorothy Lannone, only to name a few of the even longer list. 
Sarah Tritz's work manifests in various mediums that depart from the idea of the domestic object- be it toys, beds or electronic devices. In the exhibition, small paper reproductions of laptops operated almost like miniature stages for fictional dramas to unfold. 
In the last room of the exhibition and although it was only one work and quite a small drawing, I was drawn to the work of Hélène Reimann. 
Hélène Reimann is dead now, but she was a lot of things. The mother of seven children, shoe seller, artist, mentally ill. She was imprisoned in Nazi Germany in the late 30s but managed to escape. In the late 40s she was admitted to mental hospital in Bavaria. 
There she spent most of her time drawing, sketching, hiding her works to prevent hospital stadd from throwing it away. The work in the group show is a drawing of abstracted shoes. And this is what Hélène Reimann was mostly occupied with: drawing abstraced, simplified memories of the days before hospitalization- we see objects from her everday life that seem to come back as abstract ghosts. Dresses, shoes, feet, bodyparts. 
Maurin Dietrich, 2019
J'ai été profondément impressionnée par la pratique artistique de Fabienne Audeoud. D'abord en découvrant ses œuvres Parfums de pauvres au Palais de Tokyo, puis plus tard la même semaine dans son atelier où elle a créé une rétrospective miniature complète de toutes les expositions qu'elle a faites et a toujours voulu faire.
L'œuvre Parfums de pauvres consiste en une énorme collection de flacons de parfum bon marché portant des noms tels que Insanity, des copies d'originaux de marques de « haute-couture » trouvées dans des magasins de la région parisienne, en rapport avec les habitudes de consommation des personnes moins privilégiées des classes populaires. Dans une interview, Fabienne Audeod a déclaré que son intention était plutôt de demander si les équipes de créateurs ou les individus qui ont conçu Dispute, Solitude, British Emotion ou Insanity, pensaient qu'il s'agissaient de notions que certaines personnes aimeraient acheter et porter. Comment et pourquoi en sont-ils venus à considérer que ces idées étaient bonnes ou valables ? À qui entendaient-ils s'adresser et qui comptaient-ils séduire avec des termes aussi brutaux ? Savaient-ils vraiment que « Touz » signifie orgie sexuelle en français, ou ce que Nob-luck pouvait impliquer en anglais ? Ont-ils bien ri avec Coinci-dance et Untrue Lies ? "Les personnes avec qui j'achetais ces bouteilles semblaient se décider en fonction de l'odeur du parfum, mais je ne les ai jamais interrogées sur leurs choix."
Au-delà des œuvres exposées au Palais de Toyko, j'ai été impressionnée par la rétrospective miniature qu'elle a elle-même construite. Il était troublant de voir comment des termes comme « travail », « pratique », « production » et « accueil » étaient remis en question dans la démarche de dresser le bilan de ses propres créations et de peut-être décider d'en faire sa dernière œuvre.
À la fin de mon séjour, je me suis rendue au Crédac, le centre d'art contemporain d'Ivry. Fondé en 1987, il est aujourd'hui situé dans une belle structure d'acier et de verre et serrait l'une des premières apparitions du fonctionnalisme en France.
L'exposition actuelle, intitulée J'aime le rose pâle et les femmes ingrates, est au départ une exposition collective de Sarah Tritz, qui a également rassemblé des œuvres d'artistes tels que Fabienne Audeoud, Alexandra Bircken, Liz Craft, Nicole Eisenman, Dorothy Iannone, pour ne citer que quelques noms sur une liste encore plus longue.
Dans ses travaux, Sarah Tritz utilise divers médiums et écarte l'objet domestique de sa fonction, qu'il s'agisse de jouets, de lits ou d'appareils électroniques. Dans l'exposition, de petites reproductions en papier d'ordinateurs portables opèrent presque comme des scènes miniatures où se déroulent des drames fictifs.
Dans la dernière salle de l'exposition, et bien qu'il ne s'agisse que d'une seule œuvre, et d'un tout petit dessin, j'ai été attirée par le travail d'Hélène Reimann.
Hélène Reimann, aujourd'hui décédée, était une femme aux multiples facettes. Mère de sept enfants, vendeuse de chaussures, artiste, malade mentale. Elle a été emprisonnée dans l'Allemagne nazie à la fin des années 1930, mais a réussi à s'évader. À la fin des années 1940, elle a été admise dans un hôpital psychiatrique en Bavière.
Elle y a passé le plus clair de son temps à dessiner et faire des croquis et elle a caché ses œuvres pour éviter que le personnel de l'hôpital ne les jette. Celle présentée dans l'exposition collective est un dessin de chaussures abstraites. Et c'est ce qui occupait le plus Hélène Reimann : dessiner sous forme abstraite et simplifiée des souvenirs des jours précédant son hospitalisation – nous voyons des objets de sa vie quotidienne qui semblent revenir tels des fantômes abstraits. Robes, chaussures, pieds, parties du corps.
Maurin Dietrich, 2019
Traduit de l'anglais par Elsa Maggion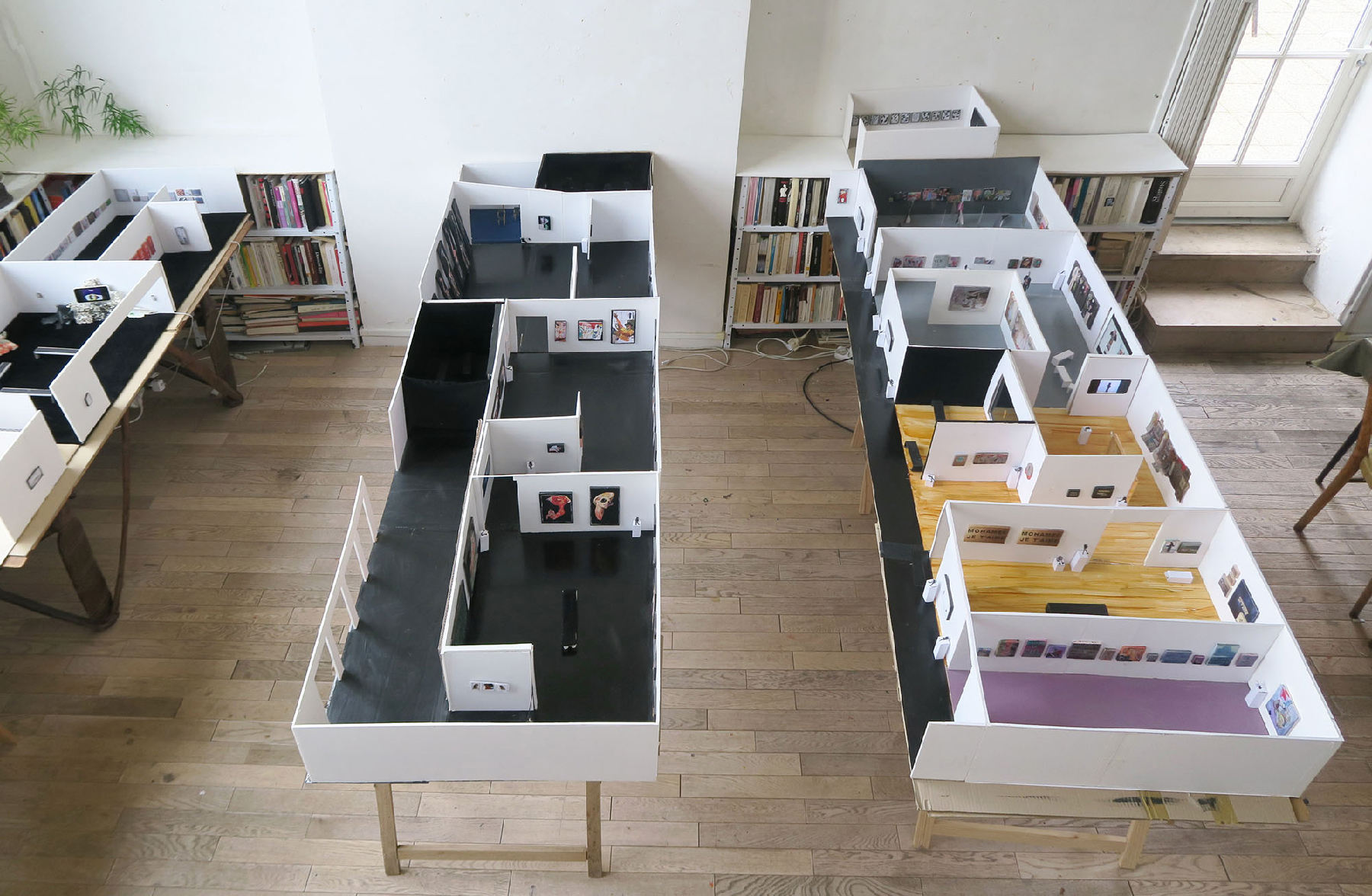 Fabienne Audeoud, born in 1968, lives and works in Paris, after a dozen years spent in London and Maastricht, it's after an M.A. at Goldsmiths University that she re-focused her work around visual practices ans it's in the context of the end of 90's London art scene that she developed it.
Her collaborative work with John Russell has been presented in group and solo shows (including ICA, London-Maccarone Gallery NY…).
Her videos, performances and paintings are regulary included in group exhibitions in independents spaces as well as major international institutions suc as Tate Gallery, V&A London, MACBA Barcelona, CA2M Madrid, Modern Art Oxford, ICA London, Moderna Musset Stockholm, Bergens Kunstforening, CA Fribourg, IAC Villeurbanne, Villa du Parc Annemasse, Curcuit Lausanne, Credac ivry, Palais de Tokyo, Paris, galery High Art and Josef Tang, Paris.
She had several solo exhibitions in artist-run spaces such as La Salle de bains, Lyon, Karst, Plymouth, Island, Brussels and Tonus, Paris.
En 2021, she received a grant from Mécènes du Sud for her project Le magasin de pulls presented in Sète, Brussels and Marseille (Komplot/Art-o-rama) and more recently in Brest with Art au Centre.
She is currently preparing a trio with John Russell and Dan Mitchell for la Synagogue de Delme in February 2022 and a residency at Fonderie Darling in Montreal.
Fabienne Audeoud vit et travaille à Paris, après une douzaine d'années passées à Londres et Masstricht. C'est après un MA en art à Goldsmiths College que sa pratique jusque-là essentiellement musicale se recentre sur les arts plastiques et se développe dans le contexte de la scène londonienne des années 90.
Son travail en collaboration avec John Russell a été montré dans de nombreuses expositions de groupe et personnelles (ICA Londres, Maccarone Gallery, NY…)
Ses vidéos, performances et peintures sont régulièrement présentées dans des espaces indépendants ou dans des institutions internationales telles que Tate Gallery, V&A Londres, MACBA Barcelone, CA2M Madrid, Modern Art Oxford, ICA London, Moderna Museet Stockholm, Bergens Kunstforening, Centre d'Art de Fribourf, IAC Villeurbanne, Villa du Parc Annemasse, Circuit Lausanne, Credac, Ivry, Palais de Tokyo, galerie High Art et Josef Tang, Paris.
Depuis 2017, elle a présenté des expositions monographiques dans les artist run spaces La Salle de bains, Lyon, Karst, Plymouth, Island, Bruxelles et Tonus, Paris.
En 2021, elle a reçu une bourse de Mécènes du Sud pour son projet Le magasin de pulls qu'elle a réalisé à Sète, Bruxelles et Marseille (Komplot / Art-o-rama) et plus récemment dans une deuxième version à Art au centre à Brest.
Elle prépare actuellement une exposition en trio avec John Russell et Dan Mitchell pour la Synagogue de Delme en février 2022 et sera en résidence à la Fonderie Darling à Montréal à l'automne 2022.
Maurin Dietrich is the director of Kunstvereinmuenchen. The last four years she worked at the KW Institute for Contemporary Art where she programmed exhibitions and performance programs. Dietrich also cofounded the experimental exhibition space "FRAGILE" and has written for CURA magazine and Mousse magazine. She previously worked for the ninth Berlin Biennale and the Berlin- and Tel Aviv–based residency program Schir Concepts. Dietrich studied art history and literature at FU Berlin and was a visiting lecturer for the master's program in art at the University of the Arts (UdK), Berlin.
Maurin Dietrich est directrice du Kunstverein München. Au cours des quatre dernières années, elle a travaillé au KW Institute for Contemporary Art à Berlin où elle a programmé des expositions et des cycles de performances. Maurin Dietrich a également fondé l'espace expérimental d'exposition « FRAGILE » à Berlin et publié dans CURA et Mousse Magazine. Elle a travaillé précedemment pour la neuvième Biennale de Berlin et pour Shir Concepts, un programme de résidences basé à Berlin et Tel-Aviv. Maurin Dietrich a étudié l'histoire de l'art et la littérarure à la Freie Universität Berlin et été enseignante au sein du master art de l'université des arts (UdK) de Berlin.
In the ongoing work Performing White Skin, begun in 2019, masks endow their wearers with the near-magical privilege of soliloquy in an indictment of the hubris of whiteness.   a group of 27  hand-carved wooden polychrome masks inspired by the masking traditions of Mexican carnivals and religious festivals as well as African rituals, and the fate of these ritual objects in European collections. The project also invokes the terracotta busts of Honoré Daumier's Célébrités du Juste Milieu, caricatures of July monarchy politicians, bankers, and aristocrats. The masks operate as sculptures and as objects activated in performances and videos.
Mauricio Limon de León, Sylvie Fortin