Maude Maris
by Mara Hoberman
Maude Maris
par Mara Hoberman
Maude Maris's multi-step creative process begins at the flea market or antique shop, where she sources small treasures like animal figurines, sea shells and other eclectic baubles. She uses these objects to create molds for plaster casts, which she later tints with various inks. She then arranges the resulting multi-colored statuettes into three-dimensional compositions—rotating, inverting and reflecting one or more casts and until they barely resemble the objects on which they are based—and snaps a photo. Finally, looking at these photographs, she paints.
The finished paintings are intensely, but pleasantly disorienting, due to the fact that Maris uses a hyper-realistic style to depict unrecognizable subjects. While we are impressed by her masterful representations of reflections, depth, volume and texture, we remain perplexed by what, precisely, we are looking at. Fossils, gem stones, architectural ruins or perhaps body parts? Even to a viewer who is aware that Maris's paintings are the final stage of a multi-step physical and conceptual metamorphosis, her realistic renderings appear undeniably abstract. Reconciling this peculiar nexus of figuration and abstraction requires a combination of narrative interpretation and formal analysis.
For the past few weeks Maris has subjected her work to yet another transformation. Digitized for Instagram, her paintings recede even further from reality as they lose their sense of scale and facture. Luminous, smooth, handheld and yet fleeting, the Instagrammed paintings become part of a virtual experience that inherently privileges imagery over materiality. But while it is tempting to think of this dematerialization as a further progression in Maris's practice, this is not in fact the direction she is headed.
Quite to the contrary, Maris's most recent work is newly and notably haptic—featuring pink, red and peachy impastos that evoke raw meat. Examples will soon be on view, in the flesh, in the artist's first solo show at Praz Delavallade, Paris ("Hiéromancie", February 20–April 10, 2021). This body of work would have also been at home in a 2009 exhibition titled "Flesh Made Paint" (Frist Art Museum; Phillips Collection), which featured carnal paintings by the likes of Francis Bacon, Lucian Freud, Jenny Saville and Cecily Brown. Even without explicitly referencing the body, Maris follows a painterly tradition that pushes the medium beyond mimesis and towards a visceral reality.
Mara Hoberman, 2021
Le processus créatif en plusieurs étapes de Maude Maris commence au marché aux puces ou à la boutique d'antiquités, où elle se procure de petits trésors comme des figurines d'animaux, des coquillages et autres boules éclectiques. Elle utilise ces objets pour créer des moules pour moulages en plâtre, qu'elle teinte plus tard avec diverses encres. Elle organise ensuite les statuettes multicolores résultantes en compositions tridimensionnelles - en faisant pivoter, en inversant et en réflechissant un ou plusieurs moulages et jusqu'à ce qu'elles ressemblent à peine aux objets sur lesquels elles sont basées - et prend une photo. Enfin, en regardant ces photographies, elle peint.
Les peintures finies sont intensément, mais agréablement désorientantes, du fait que l'artiste utilise un style hyper-réaliste pour représenter des sujets méconnaissables. Si nous sommes impressionnés par ses représentations magistrales des reflets, de la profondeur, du volume et de la texture, nous restons perplexes devant ce que, précisement, nous regardons. Fossiles, pierres précieuses, ruines architecturales ou peut-être des morceaux de corps? Même pour un spectateur conscient que les peintures de Maude Maris sont l'étape finale d'une métamorphose physique et conceptuelle, ses rendus réalistes semblent indéniablement abstraits. Réconcilier ce lien particulier entre figuration et d'abstraction nécessite une combinaison d'interprétation narrative et d'analyse formelle.
Ces dernières semaines, l'artiste a soumis son travail à une autre transformation. Numérisées pour Instagram, ses peintures s'éloignent encore plus de la réalité car elle perdent leur sens de l'échelle et de la facture. Lumineuses, lisses, à la main et pourtant éphémères, les peintures instagrammées font partie d'une expérience virtuelle qui privilégie intrinsèquement l'imagerie par rapport à la matérialité. Mais s'il est tentant de considérer cette dématérialisation comme une progression supplémentaire dans la pratique Maude Maris, ce n'est en fait pas la direction dans laquelle elle se dirige.
Bien au contraire, le travail le plus récent de l'artiste est nouvellement et notamment haptique, avec des empâtements roses, rouges et pêche qui évoquent la viande crue. Des exemples seront bientôt exposés, en chair et en os, dans la première exposition personnelle de l'artiste à la galerie Praz Delavallade à Paris (Hiéromancie du 20 février au 10 avril 2021). Ce corpus d'oeuvres auraient également été à l'aise dans une exposition de 2009 intitulée Flesh Made Paint(Frist Art Museum ; Phillips Collection), qui présentaient des peintures charnelles de Francis Bacon, Lucian Freud, Janny Saville et Cecily Brown. Même sans faire explicitement référence au corps, Maude Maris suit une tradition picturale qui pousse le médium au-delà de la mimesis et vers une réalité viscérale.
Mara Hoberman, 2021
Traduit de l'anglais par ADT International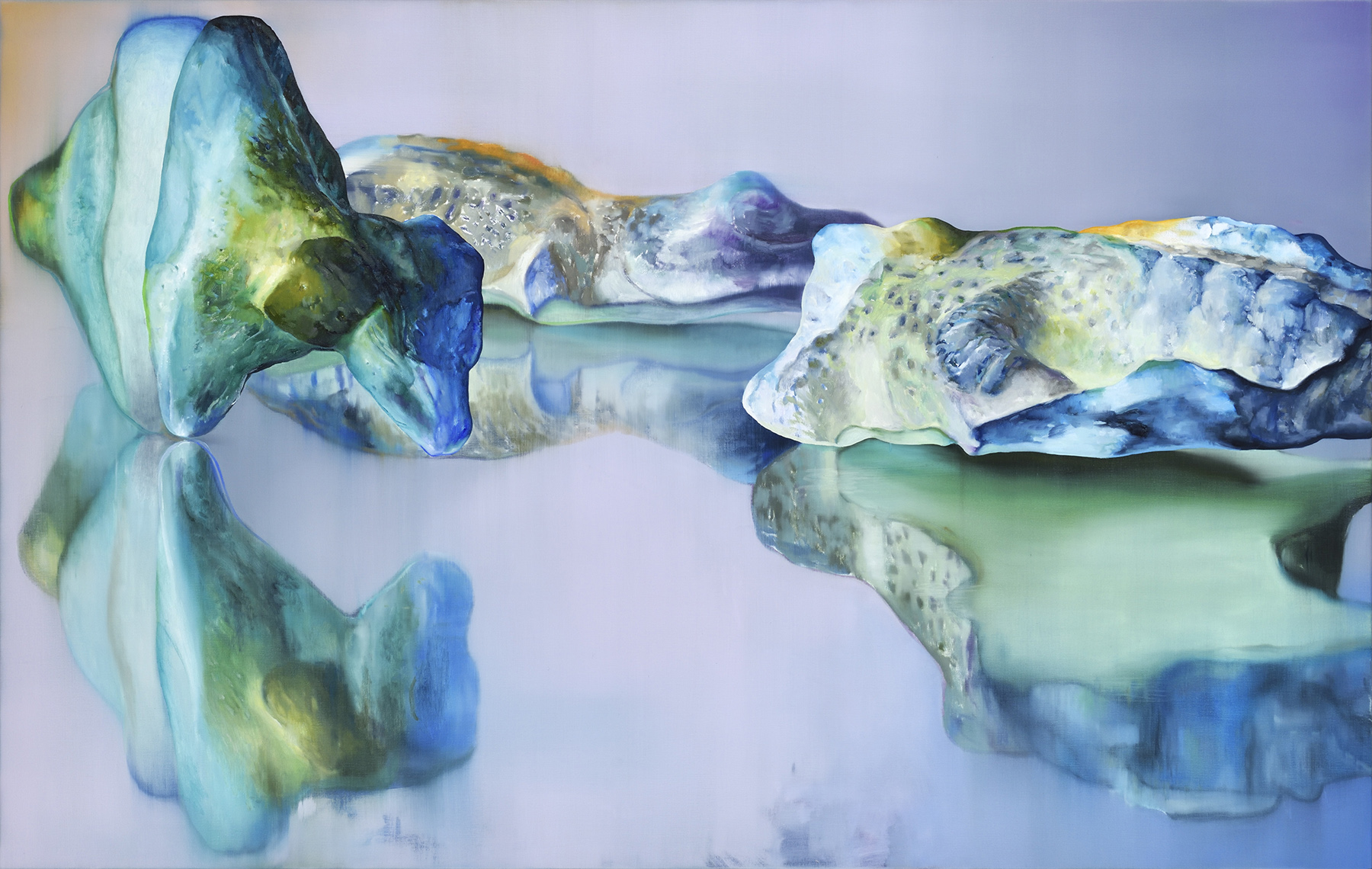 Maude Maris builds the subject of her paintings. Before painting, she implements an investigative process of molding and photographic staging of everyday objects. Through these steps, she offers the new status. The objects broaden with interpetation potential, other possibilities, regarding their scale, function and material. Each object can therefore pass from a family to another (animal form to bone, stone to body fragment, etc.) as Maris moves through a fuid classification of the world. Confronted with these objects, the viewer, caught between the perspective illusion of a glazed space and difficulty of identifying their scale, projects his own idea of forms and things. Maude Maris lives and works in Malakoff, her work is represented by the galleries Praz Delavallade in Paris/Los Angeles and Pi Artworks in London/Istanbul.
Maude Maris fabrique le sujet de ses tableaux. Elle met en place tout un processus préalable à la peinture, de moulages et de mise en scène photographiques d'objets du quotidien. Par toutes ces étapes, elle leur offre de nouveaux statuts. L'objet se charge d'un potentiel d'interprétation, d'autres possibles, tant concernant son échelle que sa fonction ou sa matière. Chaque objet peut alors passer d'une famille à l'autre (d'une forme animale vers un ossement, de la pierre vers un fragment de corps, etc..). Il pourrait s'agir d'une tentative de classification mouvante et fluide du monde. Face à ces objets, le regardeur, pris entre l'illusion perspective d'un espace lustré et la difficulté d'identifier leur échelle, projette sa propre idée des formes et des choses.
Maude Maris vit et travaille à Malakoff, son travail est représenté par les galeries Praz-Delavallade à Paris/Los Angeles et Pi Artworks à Londres/Istanbul.
Mara Hoberman is an art historian and critic based in Paris where she is currently conducting research for the Joan Mitchell catalogue raisonné. She is a regular contributor to Artforum and has authored texts for catalogues published by the Swiss Institut, New York ; the Indianapolis Museum of Art ; The Essl Museum, Klosterneuburg, Austria ; the Middelheim Museum, Antwerp, the Palais de Tokyo, Paris and the Pompidou Center, Paris.
Mara Hoberman est une historienne et critique d'art basée à Paris où elle mène actuellement des recherches pour le catalogue raisonné de Joan Mitchell. Elle contribue régulièrement à Artforum et a rédigé des textes pour des catalogues publiés par le Swiss Institut, New York ; le Indianapolis Museum of Art ; le Essl Museum, Klosterneuburg, Autriche ; le Middelheim Museum, Anvers, le Palais de Tokyo, Paris et le Centre Pompidou, Paris.
In Avignon, Outremonde emanates the same feeling of solitude: Mercier places his audience as if we're looking at the last survivors of a cataclysm that swept away the human species.
The performers wander through a succession of galleries as they walk around large sculptures made of sand. One of them, a Gothic window, is collapsing—or rather crumbling—into the heap of sand it is placed on. Its upper part retains its pointed arch and ornaments but, on closer examination, the window has been bricked up. Two troubling matte black spheres are placed nearby. They offer a sharp contrast to the beige sand structures. In a contiguous room, a gigantic foot, 2 meters high and 2.5 long, is a focal point that resembles an archaeological relic with a fragile fate. A dog—also in sand—watches it nearby.
Théo Mercier, Charles Aubin