Josèfa Ntjam
by Camille Houzé
Josèfa Ntjam
par Camille Houzé
Deleuze defined encounters as 'an effect, a zigzag, something which passes between two as though under a potential difference'. Interaction = alteration; encounter, the apparition of a third term, which isn't the fusion between two poles but an in-between: the AND, fleeting space where things become other. This is how I encountered Josèfa Ntjam's work, struck by a line-up of fluorescent sponges forming an aquatic bush. It made me think of Derrida, who described sponges as ambiguous surfaces, 'neither proper or improper, neither simply a thing, nor simply vegetal, nor simply animal'. A zoophyte, the sponge is a shapeshifter, filling and emptying, simultaneously marking and erasing. I suspected that Ntjam's work would also escape genealogy, upset identification. The beginning of a confirmation came with the work's title, 'And the coral fell from the tree', bridging the terrestrial AND the nautical, the natural AND the mythological – a story with ramifying roots and developments.
I emailed her, we talked about Drexciya and Jeff Mills, sea dwellers and space-travellers employing fiction as a tactic of resistance, journeying between disparate realms – abyssal/stellar; historical/mythical – to excavate new futures from forgotten pasts. A similar process seems to animate Ntjam's work, which uses assemblage (of images, words, stories) to create spaces of encounter between heterogeneous materials and discourses. Within these spaces, sponges become plants, plants become animals, become minerals. Humans ride seashells. Their blood cells are rioting. history loses its capital H as it's being scrutinised, amended, redrafted. But no relativism here, only intersection, bifurcation, deconstruction. Ntjam approaches things from the middle, where converge the forces of which they're composed. No longer treated as discrete entities, beings become modalities: of revolt and emancipation. From what? From assignation, nomination. As she writes 'they, we, you, I, no pronoun can hold us.'
Camille Houzé, 2020
Deleuze a défini les rencontres comme « un effet, un zigzag, un élément qui circule entre deux êtres, comme sous l'influence d'une différence potentielle ». De l'interaction naît l'altération, la rencontre, l'apparition d'un troisième terme, qui ne correspond pas à la fusion entre deux pôles, mais à un entre-deux : le ET, cet espace éphémère où les choses deviennent autres.
Voici comment j'ai rencontré l'œuvre de Josèfa Ntjam. Je fus impressionné par une rangée d'éponges fluorescentes qui formaient un buisson aquatique. Elles m'évoquaient Derrida, qui les avait qualifiées de surfaces ambiguës, « ni propres ni sales, ni simples objets ni simples végétaux ni simples animaux ». L'éponge est zoophyte, une créature transformiste qui se remplit et se vide, qui marque et efface en même temps. Je pressentais que l'œuvre de cette artiste échapperait également à la généalogie et chamboulerait ainsi les codes de l'identification. J'en ai eu un début de confirmation avec son titre : Et le corail tomba de l'arbre. Une passerelle entre le monde terrestre ET l'univers marin, le naturel ET la mythologie. Une histoire aux racines et aux branches ramifiées.
J'ai communiqué avec elle par e-mail. Nous avons discuté de Drexciya et de Jeff Mills, des hommes de mer doublés de voyageurs de l'espace qui se servent de la fiction comme d'une tactique de résistance. Ils traversent des royaumes variés (abyssaux/stellaires, historiques/mythiques) pour creuser de nouveaux futurs dans les passés oubliés. Un procédé similaire semble animer l'œuvre de Josèfa Ntjam, laquelle exploite la technique de l'assemblage (d'images, de mots et d'histoires) pour créer des espaces de rencontre entre matériaux et discours hétérogènes. À l'intérieur de ces lieux, les éponges se muent en plantes, qui se transforment en animaux, lesquels deviennent à leur tour des minéraux. Les êtres humains conduisent des coquillages. Leurs cellules sanguines s'agitent violemment. L'histoire perd son H majuscule, tandis qu'on l'examine sous toutes les coutures, qu'on la corrige, qu'on la réécrit. Point de relativisme ici. Juste une question d'intersection, de bifurcation et de déconstruction. Josèfa Ntjam aborde les choses en partant de leur centre, où convergent les forces qui les composent. Les créatures vivantes ne sont plus considérées comme des entités discrètes, elles deviennent des modalités d'expression de révolte et d'émancipation. De quoi veulent-elles s'affranchir ? De l'attribution et de la désignation. Comme l'artiste l'écrit si bien : « ils, elles, nous, on, vous, tu, je, aucun pronom ne peut nous contenir. »
Camille Houzé, 2020
Traduit de l'anglais par ADT International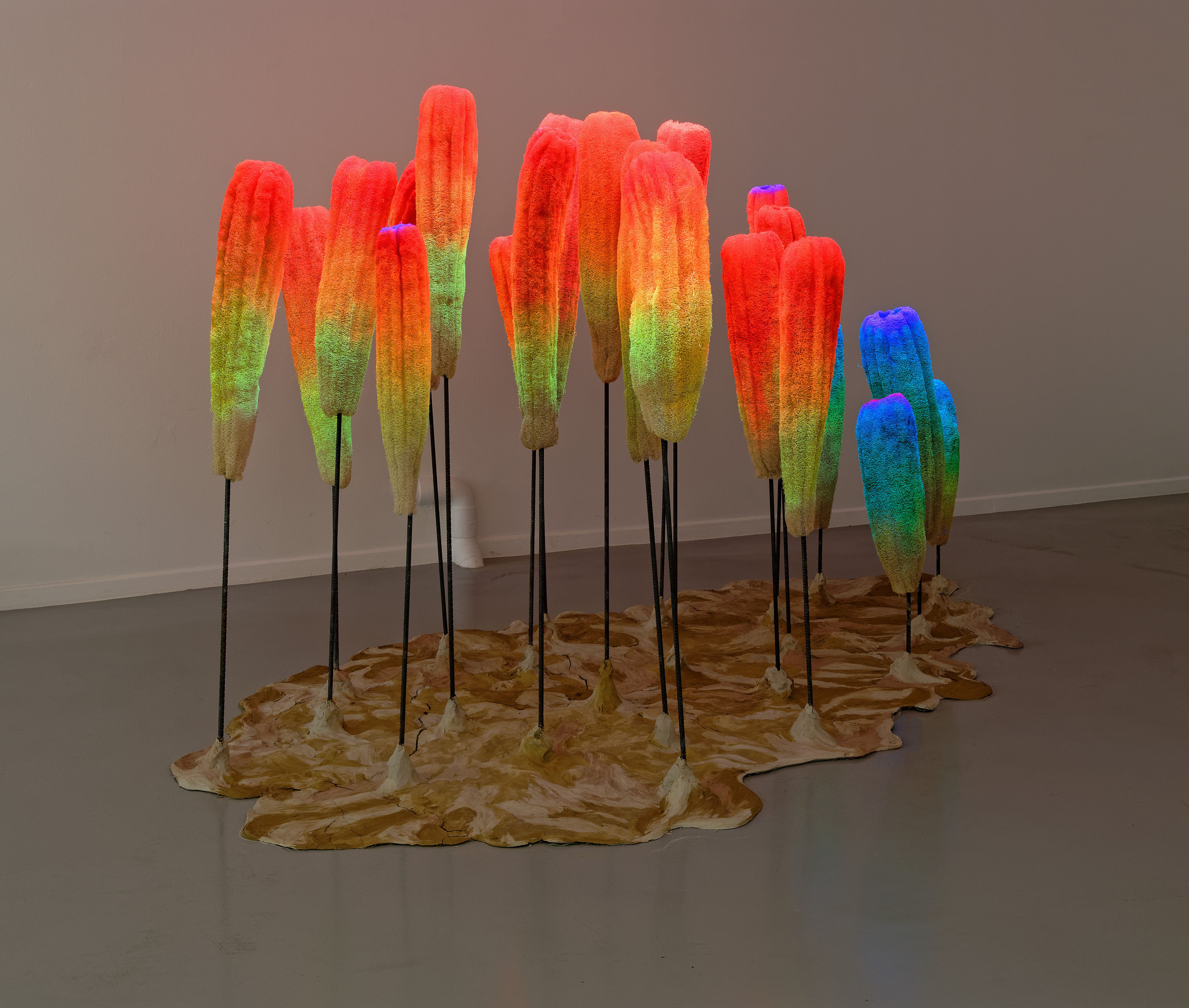 Josèfa Ntjam is an artist, performer and writer whose practice combines sculpture, photomontage, film and sound. Gleaning the raw material of her work from the internet, books on natural sciences and photographic archives, Ntjam uses assemblage – of images, words, sounds, and stories – as a method to deconstruct hegemonic discourses on origin, identity and race. Her work weaves multiple narratives drawn from investigations into historical events, scientific functions and philosophical concepts, to which she confronts references to African mythology, ancestral rituals, religious symbolism and science-fiction. These apparently heterogeneous discourses and iconographies are marshalled together in an effort to re-appropriate History while speculating on not-yet-determined space-times – interstitial worlds where systems of perception and naming of fixed (id)entities no longer operate. From there, Ntjam composes utopian cartographies and ontological fictions in which technological fantasy, intergalactic voyages and hypothetical underwater civilizations become the matrix for a practice of emancipation that promotes the emergence of inclusive, processual and resilient communities.
Josèfa Ntjam est une artiste pluridisciplinaire dont la pratique associe sculpture, photomontage, performance, film et écriture. Glanant la matière première de ses œuvres sur internet, dans des livres de sciences naturelles ou dans des archives photograhiques, Josèfa Ntjam utilise l'assemblage – d'images, de mots, de sons et d'histoire(s) – comme mode opératoire d'une pratique visant à déconstruire les grands récits à l'origine de discours hégémoniques sur les notions d'origine, d'identité et de race. Son travail prend souvent forme à partir d'enquêtes scrupuleuses sur des évènements historiques, des fonctions scientifiques ou des concepts philosophiques, auxquels sont mêlées des références à la mythologie africaine, aux rituels ancestraux, aux symboles religieux ou à des récits de science-fiction. Inspiré par la méthodologie spéculative de l'Afrofurisme, l'entrecroisement de notions a priori hétérogènes se fait dans une logique de réappropriation de l'Histoire, à laquelle Ntjam confronte des constructions narratives explorant des espaces-temps à venir, des « entres-deux mondes » où les systèmes de perceptions et de nominations d'entités fixes ne sont plus capables d'opérer. Ainsi naît la poïetique de Josèfa Ntjam, un processus par lequel le politique et le poétique s'entremêlent au sein de cartographies utopiques et de fictions ontologiques, qu'elle utilise comme outils pour une pratique de l'émancipation appelant à l'émergence de communautés multiples, processuelles et résilientes.
Camille Houzé is a curator and art historian based in London, where he is currently the director of NıCOLETTı gallery. He was previously Associate Curator at Kunstraum, London, and has been leading the research for a retrospective on Jean Dubuffet at the Barbican Art Gallery, London, from 2018 to 2021. He is the author of 'The Swallow and the Dagger', published in the exhibition catalogue Jean Dubuffet: Brutal Beauty (Prestel, 2021). He also wrote 'a digression on ghostly bees and luxury insects', published by Kunstraum in the exhibition catalogue Anna Hulačová: Graceful Ride (2018). Houzé has an MA in Art History from the Courtauld Institute of Art, London, completed under the supervision of Professor Sarah Wilson.
Camille Houzé est un commissaire d'exposition et historien de l'art basé à Londres, où il est actuellement le directeur de la galerie NıCOLETTı. Il était auparavant conservateur associé au Kunstraum, à Londres, et a dirigé les recherches pour une rétrospective sur Jean Dubuffet à la Barbican Art Gallery, à Londres, de 2018 à 2021. Il est l'auteur de "The Swallow and the Dagger", publié dans le catalogue de l'exposition Jean Dubuffet : Brutal Beauty (Prestel, 2021). Il a également écrit 'Une digression sur les abeilles fantômes et les insectes de luxe', publiée par Kunstraum dans le catalogue d'exposition Anna Hulačová : Graceful Ride(2018). Houzé est titulaire d'un MA en histoire de l'art du Courtauld Institute of Art de Londres, réalisé sous la supervision du professeur Sarah Wilson.
For almost 20 years, I have developed a practice of painting that has gradually opened up to very diverse fields, from performance to monumental sculpture, from painting on silk to installation. Using various bases and developing reuse, assemblages and formal confrontations, I wish to show how the modern project resists in the body and materiality of its own representations. As the result of an intense activity as an iconographer, my work is based on an open practice of the form, quite the opposite of a nostalgic or referential re-reading, enabling the free exercise of the most unexpected visual combinations. The idea is for me to materialise images, literally making them concrete. Started in 1998, mainly through the practice of painting, my work gradually has become more characteristic, more specifically in recent years, with a large variety of means in play.
Karina Bisch, Karina Bisch